No Pants Required
Summary: The most heartfelt and moving novel yet from favourite Australian rural romance writer and bestselling author of The Family Farm.

Indianna Wilson is a country girl through and through. She'll do anything she can to save her beloved home town from disappearing off the map – even if she has to die trying. She brings Troy Mitchell to her tiny outback town, with hopes that he can bring a breath of fresh air to the Saints football club and lift the wider farming community.

He's just the spark they need in Hyden but it's the fire that he ignites in Indi's heart that takes her by surprise. She knows he's feeling something too – why, then, does he insist on pushing her away? What is it from his dark past that's preventing them from sharing a future?

As the town rallies together and their fighting spirit returns, Indi and Troy discover that sometimes life offers up a second chance – you just have to be brave enough to take it.


Title: The Outback Heart
Series: N/A
Author: Fiona Palmer
Publisher: Penguin Australia
Released: 25th September 2013
Genre: Australian Contemporary Romance
Format: eGalley
Source: via Publisher on NetGalley - thank you!

I absolutely loved this book. I haven't read a Fiona Palmer book previously and I will certainly be grabbing any new releases, this was fantastic. I am thoroughly enjoying Australian contemporary lately and this one is definitely not an exception. Ms Palmer has a style of writing that draws the reader into the life she has written about. The Outback Heart was set in Western Australia and the scenery sounds wonderful, I personally haven't been to that part of Australia yet, but the descriptive Ms Palmer used were so vivid.

Indianna Wilson or better known as Indi is a 23 year old that has had to endure something that nobody should. Her mother, Lizzy passed away two years ago to breast cancer. Indi returned home from the city to take care of her Mum and help about the house when she became ill. She didn't get to finish her university degree and now she has taken over the reins to look after her Dad, Allan and brother Jasper at home. Indi is very passionate about her town, Hyden and especially the local footy team. If Indi was allowed she would play herself, but AFL rules won't allow it.

Playing footy has been family affair for a long time, Indi's Dad used to play and her two brother's both play for the local team. Indi always goes along to training to help out and strap or massage any injuries. This year though they have planned something different. The team hasn't been placing well and this year they have talked a well-known footy coach from another town to head to Hyden and coach the Saint's. Indi was excited to meet the coach she sought out, Troy Mitchell.

Troy Mitchell has had a very traumatic life and football is the only thing that makes him happy. He isn't able to play anymore, but coaching is the next best thing. When Troy was a teenager, in the prime of his footy life, dreaming of being drafted into the professional league, he collapsed and found his heart was broken. Troy was attached to a battery pack to keep his heart pumping and wait for a heart transplant.

After losing the love of his life, Troy left his parents and sister behind not wanting to cause them the pain he received from losing a loved one. Beginning to coach in small towns, he wouldn't allow anybody to get too close and moved from town to town never staying longer than a couple of years. Troy's life has worked out well so far, but moving to Hyden, well, Troy is in for a change of heart.

Indi is determined to get under Troy's skin and find out why this mysterious handsome coach will not let anybody through his internal walls. Troy finds he can't keep Indi out for long, but he is still determined to move on and turns her away.

Will Indi succeed with getting into Troy's heart? How will the footy team go with Troy and Indi at the helm? Can Troy overcome his fears and accept that people die in life and he can't stop them from feeling pain? Will Indi and Troy finally get together?

Indi and Troy are such wonderfully complex characters that I severely love. I love the passion that Indi shows for her town, how she doesn't want to let anybody down, but is letting herself down by doing too much. I love how Troy tries to protect everybody from being hurt but himself. I am definitely a new fan of Ms Palmer's and cannot wait to get stuck in The Family Farm, which I had to get. I highly recommend this to all romance readers.

5 FANTASTIC AUSTRALIAN ROMANCE BOOKS
About the Author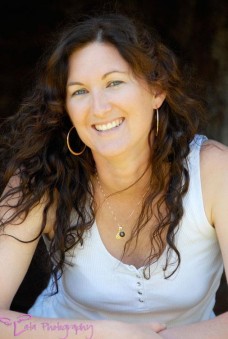 I was raised in Pingaring. My Dad and Mum are contractors in town who cart grain, spread fertiliser and spray for the farmers.

The majority of my childhood weekends were spent on my Uncle and Aunty's farm 'Gumlea' with my two cousins Tammy and Sandy, and my younger brother Chad.

We attended the Pingaring Primary School which closed its doors a few years later because of small numbers. I went off to Narrogin High School where I boarded at the Narrogin Residential College. I left school after year eleven, itching to start work and begin my life.

I was a third generation speedway driver, racing cars from the age of 16 right up until I was pregnant with my first child.

After doing odd jobs, rouseabouting, tractor driving and working on the CBH bins, where I met my husband-to-be, I went to Alexander College for a secretarial course. (Luckily they taught me how to type really fast, which comes in handy when typing up long stories)

I got a job at the Shire of Lake Grace as a secretary for three years and then changed to a Teachers Assistant before getting married to my husband Darryl and having my daughter Mackenzie and my son, Blake.

It was while running the local shop in Pingaring in 2006, in a partnership with my Mum, that I began writing down a story that was roaming around in my head. Lo and behold, this was the start of my writing career. The Family Farm is my first book followed by Heart of Gold, 2011 and The Road Home 2012.

*Photo by Lata Photograpy
~ Courtesy of Fiona Palmer's website