No Pants Required
Summary: Return to the beloved world of Shadow Falls, a camp that teaches supernatural teens to harness their powers—and where a vampire named Della will discover who she's meant to be.

For Della Tsang, Shadow Falls isn't just a camp: it's home. As a vampire who's never fit in with her human family, it's the one place she can truly be herself. But when a mysterious new guy arrives at camp, Della's whole world is thrown into turmoil. Chase is a vampire with secrets, who knows more than he's telling. But the more time she spends with him, the more she begins to trust this attractive stranger—and feel drawn to him. But romance is the last thing she wants—as she keeps telling Steve, the hunky shapeshifter who won't stop trying to win her heart. And if Della isn't careful, he just might succeed.  When a new case puts everyone she cares about in danger, Della's determined to do everything she can to save them . . . even if it means teaming up with Steve and Chase, who leave her more confused than ever. With their lives on the line, will Della and her friends survive—with their hearts intact?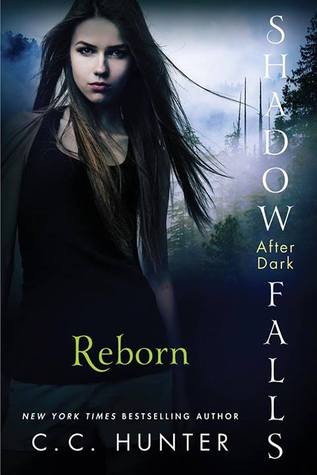 Title: Reborn
Series: Shadow Falls: After Dark #1
Author: C.C. Hunter
Publisher: St Martins Griffin
Released: 20th May 2014
Genre: Young Adult Urban Fantasy
Format: eGalley
Source: via Publisher on NetGalley - thank you

Another fantastic series by C.C. Hunter. I have only read the first book in the Shadow Falls series and absolutely loved it and I was excited to start the new series, After Dark. Ms Hunter has created a fantastic world and the characters are so vast and lovable. To me it didn't matter that I hadn't completed the first series, I knew some of the characters and some of their backstory, but really it wouldn't matter. This is another great indication of the talent of Ms Hunter.

Della Tsang is a teenage vampire, but seems to have developed the ability to sense ghosts as well. Visiting home for the weekend, Della is counting down the minutes until she can go back to Shadow Falls. It seems her family believes she's into drugs and alcohol. They used to be close until she turned. Della is seriously contemplating faking her own death so her parents can move on. But selfishly, Della doesn't want to live without her family, so she will endure their wrath and their disheartening stares. Her little sister, Marla mentioned their father's twin brother became sick and died in a car accident. Could he be a vampire and faked his own death? Something for Della to find out.

Back at school/camp with her cabin mates, Kylie is a chameleon and a ghost whisperer and Miranda is a dyslexic witch. There seems to be a new guy at school and he seems very familiar to Della. His scent is recognisable, but Della doesn't know from where. Chase Tallman is a cocky arrogant vampire and is interested in Della.

Della asks Derek (Fae) for help with finding her Uncle, but it won't be easy. Della is desperate for that connection. Della is feeling the presence of a ghost following her around. It is disturbing her and won't communicate. Who and what does it want? Steve is a shapeshifter and a hot one. Every now and then Della and Steve get together to make out, but Steve wants a commitment from Della. Even though the whole school knows that they are into each other, Della doesn't want to get hurt again.

Della catches a scent of a trespassing vampire that has two human blood scents attached and with a murder in the human community, Burnett (camp leader and a detective with the supernatural equivalent of the police) decides to take Della along to check the scent. The scene is horrific and now Della can't get the image out of her head.

Della has been feeling off lately, her temperature is warmer than normal and her senses are being sporadic. Believing she just has a little cold, she battles on, but what is really wrong with Della?

Can Della find her Uncle? Will she be allowed to help in the investigation of the murdered human couple? Will Della open her heart up to Steve? Who is Chase and why is he familiar?

Reborn is certainly an action packed, fun filled read. I love Della's attitude and her determination to discover the truth. With the addition of the hot, sexy shapeshifter Steve, Reborn has something for everybody and both series by C.C. Hunter are must reads.

5 ACTION PACKED HEARTS

About the Author
C.C. Hunter grew up in Alabama, where she caught lightning bugs, ran barefoot, and regularly rescued potential princes, in the form of Alabama bullfrogs, from her brothers. Today, she's still fascinated with lightning bugs, mostly wears shoes, but has turned her focus to rescuing mammals. She now lives in Texas with her four rescued cats, one dog, and a prince of a husband, who for the record, is so not a frog. When she's not writing, she's reading, spending time with her family, or is shooting things-with a camera, not a gun.

C.C. Hunter is a pseudonym. Her real name is Christie Craig and she also writes humorous romantic suspense romance novels for Grand Central. www.christie-craig.com

C.C. would love to hear from you. Because of deadlines, it may take her a day or so to get back with you, but she will reply. cc@cchunterbooks.com