No Pants Required
Summary: I HAVE DONE BAD THINGS.

I CAN'T TAKE THEM BACK,
AND THEY ARE PART OF WHO I AM.

Tris has survived a brutal attack on her former home and family. But she has paid a terrible price. Wracked by grief and guilt, she becomes ever more reckless as she struggles to accept her new future.

Yet if Tris wants to uncover the truth about her world, she must be stronger than ever... because more shocking choices and sacrifices lie ahead.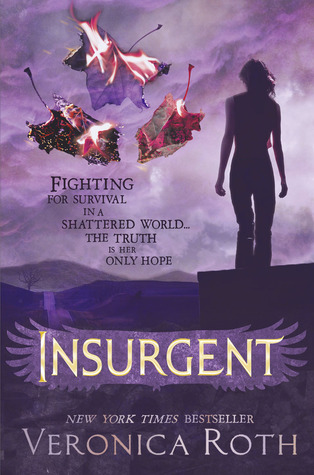 Title: Insurgent
Series: Divergent #2
Author: Veronica Roth
Publisher: HarperCollins
Released: 1st May 2012
Genre: Young Adult Dystopia Science Fiction
Format: eGalley
Source: via Publisher on NetGalley - thank you so much!

** Please be aware that spoilers will appear below for Divergent (Divergent #1) **
Holy Mackerel, what a book! I absolutely loved Divergent and unfortunately haven't had the chance to see the movie yet. I was excited to read Insurgent, see where Tris and Four ended up and it certainly didn't disappoint. The ending was shocking, I couldn't believe that it just stopped, ggggrrrr. That's the talent of Veronica Roth though, always leaving the reader wanting more.

After the simulations disaster the Erudite created, Tris, Four and a few others head to Amity for sanctuary. With sanctuary there are conditions and those conditions weren't easy to sustain.

Tris and Peter are still enemies and when he steals something important to Tris, her switch was flicked and BAM, she's off like a rocket. Tris is taken away by Amity and given something to calm her down. The only problem with that is she was given too high a dose and became a giggling pickle doped out of her mind.

Four sees Tris and demands answers from the Amity spokesperson. When secrets are uncovered, Four and Tris organise to leave and are not welcome to return.

Running for the fence, the group are heading now to Candor; half of the Dauntless faction are there already. Four and Tris want to band together with Candor and go against Erudite to end the war. The only way Candor will allow the group to stay is if Four and Tris are given the truth serum and answer questions in front of all inside the headquarters.

Not having a choice, Four goes first. He fights at first, but in the end knows he cannot beat the serum and answers. Tris struggles to watch Four fight the serum, but when her turns comes, will she be able to fight it with her divergent brain or will she just answer the questions?

There is an attack on the Candor building and Erudite soldiers are looking for the divergent. The attack doesn't go to plan though and a traitor is caught. Jack, the Candor leader tries setting up a meeting with Erudite for peace treaty talks, but all hell breaks loose instead.

With the knowledge that Candor doesn't have the manpower and will to go against Erudite, new leaders are elected for Dauntless and they leave, going back to their headquarters.

Will Dauntless be able to end the war with Erudite? Will Erudite find a simulation serum that works against the divergent? Will Four and Tris get it together and declare their love? What is this data that Abnegation were going to share and the Factionless want destroyed?

Loyalties are questioned, new alliances are made, love is doubted and new friends appear amongst the chaos. What will happen to Tris and Four? This series is a definite read to all readers young and older. Book two, Insurgent was definitely not a filler, it unearthed more secrets and more lies, but overall the love story between Four and Tris is still strong within.


5 UNPREDICTABLE TRIS HEARTS

Other books in the series:

You can read my review of Divergent HERE.

About the Author
Veronica Roth is from a Chicago suburb. She studied creative writing at Northwestern University, and wrote DIVERGENT (Katherine Tegen Books, May 2011) and INSURGENT (May 2012). The third and final book in The Divergent Trilogy, ALLEGIANT, will come out on October 22, 2013. In the meantime she will spend endless hours browsing Wikipedia in her pajamas as she eats corn flakes. (Or some other kind of bland breakfast cereal.)